Train to be an  "International Protocol Specialist"
5-day Intensive Training Program covering International Protocol, Diplomacy and Cross-Cultural Relations successfully launched in Dubai, 2015
SUCCESSFUL LAUNCH  – DUBAI, UAE, DECEMBER, 2015 
Dubai, UAE (Dec 6-12, 2015) – International Protocol Institute of California (based in San Diego) in partnership with Levenbert Consulting, successfully launched its first international protocol certification program, 'Train To Be An International Protocol Specialist' from Dec 6-12, 2015 at The Address Hotel in the Dubai Mall with excellent reviews and feedback from delegates of reputed organizations which included: Mohamad Bin Zayed Al Nahyan Office (MBZO), DP World, Abu Dhabi Terminals, SHUROOQ, Thomson Reuters, etc.
International Protocol Institute of California (IPIC) and Levenbert Consulting have partnered to bring forth an unmatched level of excellence and create International Protocol Specialists in the Middle East and Africa Region. With an aim to of introducing these programs and expanding into the entire region of MENA, IPIC and Levenbert are planning to launch region specific International Protocol Training programs to cater to government corporations, private organizations, entrepreneurs and individuals.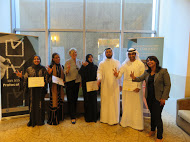 IPIC is a recognized leader in the International Protocol industry since 1989. It has designed and delivered hundreds of customized programs on international business protocol, cross-cultural communications, international relations and social diplomacy,  to top corporations, entrepreneurs, organizations and individuals  in the US and Middle East who aspire to a higher level of confidence and business success.