International Protocol & Business / Corporate Etiquette  
Based in San Diego since 1989 and with offices in Dubai U.A.E., The International Protocol Institute of California has designed hundreds of programs for top U.S. and multinational corporations, organizations, entrepreneurs and individuals.  
Mastery of  business etiquette is essential in this service-based economy, when interacting with customers, prospects, or coworkers.  The benefits gained from business etiquette training are practically limitless, whether it's winning business, ameliorating the high costs of employee turnover or, increased workplace morale and productivity. In short – etiquette is a business strategy.
On-Site, Individual / Team Coaching
5 – Day Certification: "Corporate Etiquette Consultant"
An image that promotes promotion!
Confidence to handle any business / social situation with ease and grace.
Customer trust, loyalty and stellar reputation.
Increased productivity and customer service orientation.
Impress prospective clients, strategic partners, and investors.
Business professionals                                        
Politicians / Those seeking public office          
New hires                                                              
Personnel who represent your company publicly
Management and front-line personnel                
Employees who are being considered for promotion
Job seekers                                                          
Entrepreneurs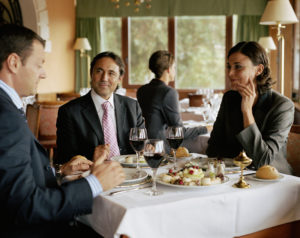 Professional business etiquette

Brand/Image development

Uncommon customer courtesies

Communication in the office

Powerful presentations

Diversity, generational and gender roles in business

Networking smarts

Dining and social skills

Telephone / E- mail etiquette / Cyber civility

Effective meetings

Interview to win!
"Thank you for participating in the Management College Program.  The event was a great success according to all of the measurements we collected, and your presentation, in particular, was a great contribution."  R.D. Event Manager, IBM, Management College
"I recently returned from a European business trip and cannot thank Marie enough for preparing me to interact with clients at the highest level.  The confidence I gained from knowing what to do and when to do it, in both business and social settings, was invaluable to me.  I would highly recommend her services to individuals or companies who would benefit from One-on-One Coaching on her Executive Presence Program."  L.M. Sempra Energy, San Diego, CA
Relationships, results, rewards!
Each program in the Masterclass Development Series is customized to your requirements
CONTACT US: Telephone: +1 (619) 675-0001 – E-Mail: mbj@ipicalifornia.com